MOLET-MAC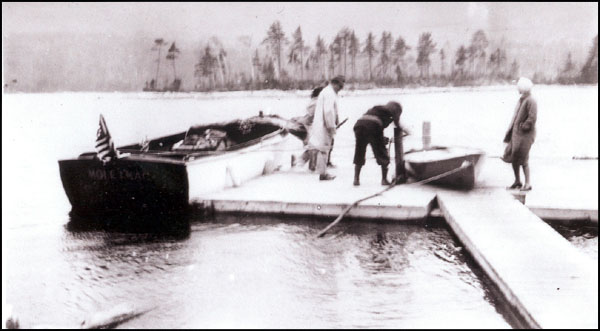 The original hull on which YNOT Wilbur is based, was designed and built by Wilbur Storter of Naples, Florida. The boat was built for Letty DuPont Downs of Richardson Lake, Maine in the early 1950's.

Sisters Letty and Molly DuPont were married to brothers Robert and Ellason Downs. In the 1950's, while in Florida, Robert Downs saw and admired a Storter Boat. His wife Letty had a 25' Storter built and shipped to Maine, where the couples had cottages on Upper Richardon Lake.
The boat was constructed of cypress frames and cypress planks with mahogany decks. The hull was painted white and named "Molet-Mac" after Molly, Letty and "Mac" (the nickname of one of the brothers).

Molet-Mac was used by the Downs family until the late 1960's/early 1970's when the boat was sold to Larry and Alys Parsons. The Parsons' owned Lakewood Camps, a sporting camp on Lower Richardson Lake with water only access. The boat was used in the camp's fleet to transport guests and their dunage until the early to mid 1980's when it was hauled onto the ways at Rifle Point and never used again.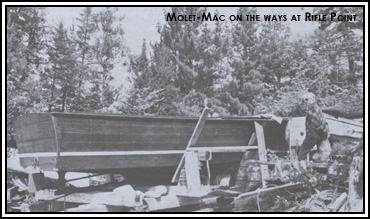 In the mid 1990's the boat was transported to Northport, Maine by Charlie Dhyce with the intention of becoming a personal restoration project. Several years past without restoration and Molet-Mac was offered for sale. The boat was purchased by the LeDonne family of Pittsburgh, Pennsylvania in the fall of 2001.

The black and white photos and history of Molet-Mac were provided by Ted Orino of South Rumford and Richardson Lake, Maine. In July, 2008, YNOT Wilbur returned to the docks of Lakewood Camps and Richardson Lake, Maine.